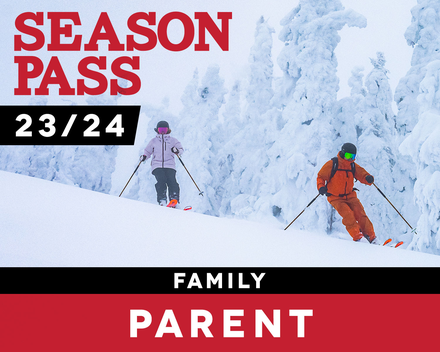 Product Description
Family definition: One or two adults and his/her/their children age 18 and under as of October 1st.

Check out the Family Max option if your total is greater than $2925 (Mar 15-Apr 30), $3225 (May 1-Oct 1), $3625 (after Oct 1) to ensure you get the best price.

Parent Pass definition: Two adults in the same household share the pass. Only one adult can use the pass at one time. If both adults would like to ski at the same time, please go to the Individual Adult Season Passes.

*Please Note: There must be at least one child under the age of 12 to qualify for a parent pass. The child pass is not automatically included with the selection of the parent pass. Please create a profile for the child and add their corresponding pass option.

Be sure to update all the information in your profile including a crisp clear photo of yourself. If your photo does not meet the guidelines, you will be asked to retake your photo at Guest Services.

Passholders enjoy discounts such as:
15% off regular priced Piste Off retail goods
15% Regular and High Performance rentals and service
10% off Snowsports Programs
30% off Day Care Programs (Full Day only)
25% off hot chocolate, tea and brewed coffee
FREE night skiing!
Reciprocal deals to other ski resorts
Click here to review the Season Pass Waiver Liability Terms and Conditions »
Parent and Family Passes
CA$1,199.00 +
Available
---
Family Pass - Parent

CA$1,199.00

Family Pass - Youth (13-18)

CA$479.00

Family Pass - Junior (7-12)

CA$249.00

Family Pass - Child (6 & under)

Free
This product needs additional information, you must login to purchase this product.
Product Description
Family definition: One or two adults and his/her/their children age 18 and under as of October 1st.

Check out the Family Max option if your total is greater than $2925 (Mar 15-Apr 30), $3225 (May 1-Oct 1), $3625 (after Oct 1) to ensure you get the best price.

Parent Pass definition: Two adults in the same household share the pass. Only one adult can use the pass at one time. If both adults would like to ski at the same time, please go to the Individual Adult Season Passes.

*Please Note: There must be at least one child under the age of 12 to qualify for a parent pass. The child pass is not automatically included with the selection of the parent pass. Please create a profile for the child and add their corresponding pass option.

Be sure to update all the information in your profile including a crisp clear photo of yourself. If your photo does not meet the guidelines, you will be asked to retake your photo at Guest Services.

Passholders enjoy discounts such as:
15% off regular priced Piste Off retail goods
15% Regular and High Performance rentals and service
10% off Snowsports Programs
30% off Day Care Programs (Full Day only)
25% off hot chocolate, tea and brewed coffee
FREE night skiing!
Reciprocal deals to other ski resorts
Click here to review the Season Pass Waiver Liability Terms and Conditions »
Product Information
| | |
| --- | --- |
| UPC | 6408dd7c7dcea4731a350743 |
| Availability | Available |